Orval & Bruno
Orval and Bruno
The late Orval
Orval was born in February 1998 in the West Midlands and at 8 weeks came to us in Bristol, a very timid, small fluffy barrel. He quickly grew and got used to being alone while we went out to work five days a week, Jane part time, Simon full time. He made lots of friends amongst relatives and neighbours both human and canine. Weekends and holidays were spent walking in the surrounding areas (Cotswolds, Quantocks, Forest of Dean) and further afield (Lake District, Ireland, Brittany).
Aged 4 his life changed again. Now we were home all the time and lots of visitors came to 'his' house to be met and greeted and fed by if possible. Weekends were work days as well and holidays rare. But he had so many new friends that it didn't matter so much. He still managed the occasional holiday in Northumbria and the Lake District.
In early 2006 he was diagnosed with Congestive Heart Failure and given six months at most. A special holiday was planned, to take Orval to Orval, a Trappist monastry in the Belgian Ardenne that brews its namesake beer. A successful trip remembered by us and the staff of the brewery who found out about our trip through their british sales representative and invited us so they could meet Orval and show Jane and Simon around the brewery. When they later heard of his death they sent their condolences.
Finally, almost exactly six months after diagnosis the heat of the summer was too much for comfort and he had to be put out of his misery. The pub will never be the same again. The photo below was taken by one of our customers and presented to the pub in his memory.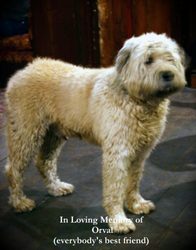 Bruno
Bruno has had a very different life. Despite having a father placed in class at Crufts Dog show he was one of a litter that was not all sold but partially dumped on the RSPCA. Aged just under a year he was given up to a rescue sanctuary in Upminster due to getting too big for the family. (He is standard sized for breed). The impression we get is that he was initially well socialized but then abandoned in the garden/outside for most of the time. He still craves attention and does not like being the wrong side of a door.
In January 2007 we decided the time had come for a new dog and asked our bouvier contacts about rescue dogs, they responded with a contact for Bruno. We drove down and not surprisingly brought him back. Initial walks were a problem, he kept wanting to return to familiar territory, the kennels, the car, our house.
Given time he quickly realised what his life was now to be and is increasingly coming out of his shell and catching up on puppyhood and teenage times. Most of the time this is restricted to when we are not open. He is trying hard to be a good pub dog and there are many similarities coming out. He is not and never will be Orval, but he is trying to be as similar as possible. Time will no doubt tell.
After a long (12 1/2 year) life Bruno went to join Orval in August 2018 after a short illness. Tired out. Much missed by us and many others.